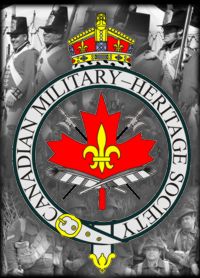 Who Is The CMHS?
The Canadian Military Heritage Society is a non-profit, charitable organization. Its members are dedicated volunteers that are committed to the promotion and the preservation of Canada's national and military heritage.
Members of the CMHS study all aspects of Canadian military history and re-enact time periods of historical interest. Each member has the rare opportunity to gain knowledge while recreating the experience of the Canadian soldier in combination with the study of wars involving Canada.
The CMHS hopes to "educate through living history" by attending air shows, museums and historical sites where the unit displays a large collection of uniforms, weapons, personal effects and documents from various periods. The society also participates in re-enactment displays in Canada and the U.S.A. at various historical and military sites. The 49th Foot had been involved in the 175th and 180th anniversary of the Battle of Waterloo on the historical grounds in Belgium.
Projects of the CMHS include:
49th Regiment of Foot: Serving under Major General Brock, the former Colonel of the Regiment, the 49th saw action at some of the most crucial battles of the War of 1812. Queenston Heights, Stoney Creek, and Crysler's Farm were just a few of the actions that the regiment took part in. It was during service here in Canada that over 75% of the men of the 49th gave their lives in the defence of this country. Members of the CMHS have portrayed this famous regiment since 1984 and founded the re-enactment of the Siege of Fort Erie, and Historic Fort George.
The Princess Patricia's Canadian Light Infantry (PPCLI): 1914-1918 - Of the 1,098 "originals", less than 50 would return to Canada in March 1919. The CMHS proudly portrays the honourable regiment in military shows, re-enactments, and film documentaries.
Princess Patricia's Canadian Light Infantry (PPCLI): 1943-1945 - They landed in Sicily in 1943 and then assaulted the Italian mainland as part of the 1st Canadian Infantry Division. It was during the long and hard fought Italian Campaign that the regiment made many sacrifices and earned several tenacious victories. After D-Day the unit advanced through N/E Europe. They were instrumental in the liberation of Holland and the capture of Appeldoorn. After victory in Europe, the battalion returned to Winnipeg in October 1945.
Mobile Museum: The CMHS has acquired and is presently in the restoration phase of a Canadian Military Pattern C15a General Service truck and a Mk2 Universal Carrier. The CMP was made by Chev plant in Oshawa, Ontario in 1942. This was the back bone of the Canadian Army during the Second World War. The goal is to restore the vehicle in 1945 appearance and become a key element in the CMHS mobile museum which will travel to events, schools, air shows, parades and Rememberance Day ceremonies. A fundraising campaign has started with hopes to complete the project in 2008 followed by the Universal Carrier.
Up Coming Events 2017:
Date Unit Event
May 19 - 21 WWII Ottawa Tulip Festival, Ottawa ON
June 17 - 18 WWI Camp Niagara at Fort George, Niagara-on-the-Lake, ON
July 1 WWII Canada 150th Parade, Fort Erie, ON
August 16 - 19 WWII D-Day Conneaut, Ohio, USA
September 10th WWI Great War Flying Museum Fly In Brampton, ON
November 3 -5th WWI Newville Fall Tactical, Newville, Pennsylvania, USA