Mobile Museum

---
---
---



CMHS - Museum Vehicles
The CMHS collection of Military Vehicles include: 1942 CMP c15a, a Universal Carrier Mk1, and a Bantam Trailer as part of its WW2 project and hopes to have them restored to begin a "Mobile Museum".
Canadian Military Pattern(CMP) C15a



This vehicle is currently undergoing restoration. To track its progress please visit the CMP C15a Restoration Project.

1942 Chev 15a built in Oshawa, Ontario. It was found stored in a barn in Fort Erie. Members of the CMHS negotiated a deal with the owner and the CMP is now awaiting restoration to running condition.

The 2C1 box and Tire Carrier still in place. Very hard to find. This vehicle was used during construction of highways in the Yukon before arriving in Fort Erie.

Universal Carrier Mk 1
This vehicle came with the its armour recently rebuilt and the tracks in pieces. It was purchased from a private collector in the USA who had, in turn, found it in Northern Ontario. Good to have her back in Canada. There are many hours of work still ahead.

Bantam Trailer
This particular trailer was purchased from Willy's Acres in Ontario and will be repainted with PPCLI / 1st Div markings in the near future. Now, if we only could find a jeep.
CMP T-SHIRT SALE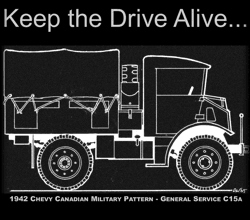 Only $15.00 each ...all funds go towards the restoration of the CMP GS truck
If you are interested in purchasing a "Keep the Drive Alive" shirt, please contact us by email. Shirts are $15 Cdn, plus $5.00 shipping. The CMHS is also able to receive donations and issue tax reciepts for donations over $20.00. Your assistance in completing the restoration will enable the CMHS to visit local schools, historical sites, air shows, and community events in transporting our museum artifacts with the CMP as part of the "mobile museum".
Vehicle Videos
Original footage taken during the 1940 at the Canadian National Exhibition in Toronto, Ontario. Footage shows some universal carries and CMPs being put through their paces for the crowd.
Members of the recreated WW2 PPCLI unit (part of the CMHS) were able to ride in a Universal Carrier MkII during the Ontario Regiment's Museum military vehicle show in July 2008. The museum is in Oshawa, Ontario. Watch the end of the video to see a fully operational Sherman tank pass at high speed. You could feel the ground shake when it drove by. Impressive sight to see.