49th ROF






---
---
---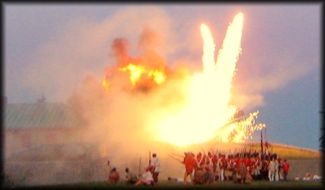 49th Regiment of Foot
The 49th Foot recreated unit was formed in 1984 and is a project of the Canadian Military Heritage Society, a non-profit organization whose members are dedicated volunteers committed to the promotion and the preservation of Canada's national and military heritage.
Within the scope of the 49th Regiment of Foot, our members explore the conditions and considerations of British Infantry life in Upper Canada during the War of 1812-14. We are constantly learning more about the way soldiers (and their families) lived, fought and died during this time period. By re-enacting the encampments, battles, and living conditions, we have a chance to apply what we've learned and to appreciate the resourcefulness of our ancestors. It is an opportunity to enjoy the numerous historical sites in a way that very few can.
Re-enacting the events of the War of 1812-14 also allow us to share the knowledge we have acquired with others. Many people are unaware of the history in their own backyard, and this hobby let's us bring it right to them. For children especially, that aren't made aware of the struggles to build and defend North America, re-enactments make the history alive and in HD.