CMHS Home










Charges






---
---



Skills
Things you'll need to learn to do for yourself.
Rolling Cartridges
Required: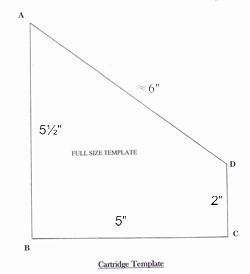 Cartridge Paper:
Using the template, cut a small stack of these from a newspaper. Until you get used to rolling, it is advisable to cut a cardboard template to guide you. Newspaper is just fine, but any lightweight paper will do. For one pound of black powder you will require roughly 60 papers.
Note: some research has suggested that historically the paper used was a light blue.
Half-inch Copper Tube: This will be your mandrel for rolling the paper. It need not be too long, 6-7" will do. You can find it at any hardware store, and they usually sell it by the foot so you don't get stuck with too much extra.
FFg Black Powder: Also called Double F Gunpowder. If you don't have this you don't need to roll any charges. Black powder is the stuff that makes your musket go bang.
Funnel: Should have a spout which fits into the tubes easily. For filling the paper tubes with black powder.
Measuring Spoons: Required for accurately filling each cartridge.
Process:

Step 1: Lay a cartridge paper out on a flat surface. Place the copper tube along side BC, leaving about a half-inch of paper hanging past the end of the tube.

Step 2: Roll the paper onto the tube until all the paper is rolled.

Step 3: Twist and press the overhanging paper into the end of the tube so that it seals tightly.

Step 4: Slide paper from tube, leaving you with an empty cartridge.

Step 5: Place funnel into top of empty cartridge, spoon in 1-1/2 teaspoons of Black Powder.

Step 6: Twist the top of the cartridge closed, leaving a flag on top. This flag will assist you when it comes time to bite the charge open during the loading procedures.
Et viola, you have a charge!