PPCLI WW1





---





&nbsp&nbsp&nbspWebbing






---
---



Uniform and Gear
The Webbing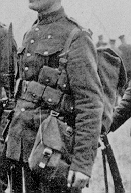 Orginally the PPCLI, along with the RCR, Canadian Garrison Artillery units and some mounted units of the regular army, were issued the Mills-Burrowes WE'13 (1913 pattern)back-adjustable webbing prior to sailing for England. Gault purchased the webbing, along with uniforms and equipment, with his own funds. The PPCLI wore the WE'13 into France in December 1914 while the battalion was attached to the British 80th Infantry Brigade.In September 1914 most of the Canadian WE'08 (1908 pattern) webbing was withdrawn from militia units and issued to the new CEF battalions at Valcartier. The fact that existing stocks of both patterns were issued to units proceeding over-seas probably accounts for the almost total absence of these uniquely Canadian patterns of web equipment from Canadian collections.
On the right is a photograph of a PPCLI soldier shortly after arriving in England. He is wearing the WE'13 pattern webbing with the narrow braces and cartridge carriers with hook and loop buckle


On the left is the left view of the WE'08 pattern webbing. Small pack on the left side worn over the SMLE bayonet and the E-tool helve.
On the right is the front view of the WE'08 (British) pattern webbing issued to Canadians after arriving in England and to the PPCLI shortly after arriving in France
WE'08 pattern laid out.